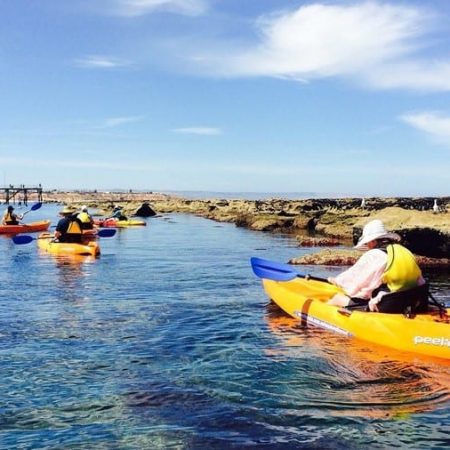 Our Kayaking at Port Noarlunga Trip will see Staff and Participants travel by private charter bus from PAHS Morphett Vale to Port Noarlunga. Prior to boarding the bus, we will be discussing group norms and how to stay safe in the water. Once we arrived at Port Noarlunga, participants will change into their swimsuits before being guided into an afternoon of fun kayaking!
This activity can be combined with Wallis Cinemas to create a full day activity. If you would like to combine these groups, there is an additional charge of $22.41 in addition to the two group costs for care during this time. We ask that you please provide your child with a packed lunch to enjoy during this time.
NDIS Covered Cost:  $92.35
Out of Pocket: $27.50
2:00pm – Participants are asked to arrive at PAHS Morphett Vale 5 minute prior to the session, so Participants and Staff can go through group rules and leave promptly to arrive at Port Noarlunga
2:30pm – Participants and staff will then kayak for 2 hours, before returning to the office for a 5:00pm pickup.