Meeting with Karen Pickering Assistant Secretary, Home Support Branch, Department of Health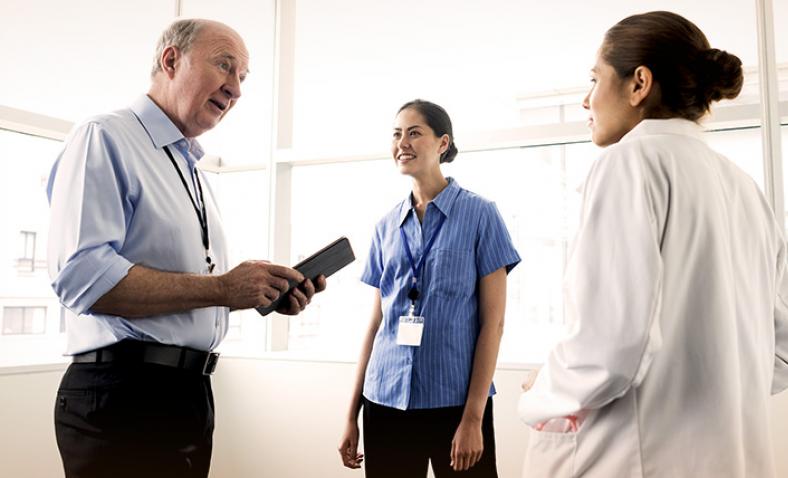 On Monday 20th November, Jan Erven, Anita Volkert and Rachel Norris attended a meeting with Karen Pickering, Assistant Secretary, Home Support Branch, Department of Health, and members of her team, in Canberra. Karen has responsibility for the Commonwealth Home Support Programme (CHSP).
Topics of discussion were those flagged by OTA's National Aged Care Reference Group.  The meeting was open and discursive, with Karen and her team showing a real appetite for discussion and interest in the issues affecting occupational therapists regarding AT and Environmental Modifications when working with older people.
MAC System Issues
Key issues discussed included the many workarounds occupational therapists are having to use to get around system issues with MAC, such as inaccurate information on referrals from RAS to occupational therapy services, difficulties tracking the progress of community referrals after they have been submitted to MAC, difficulties uploading documents to MAC.  Karen's team assured us that they are working on a backlog of system updates and as these roll out, some of these issues will be addressed.  It is possible to sign up for MAC system update alerts here: https://agedcare.health.gov.au/news-and-resources/subscribe
Karen's team were also particularly interested to hear of the issue of uploading documents to MAC and felt they could address that more quickly.
The issue with MAC closing referrals if they couldn't contact the patient after two phone calls was raised, and Karen's team clarified that 2 attempts to contact the client are made, followed by one attempt to contact the referrer or named carer.  Recent system change has enabled this and it should now also be easier for the referrer to track the progress of the referral, and complete the consent/check process.  Grant Review Managers should also be able to keep information on the system more up to date.
Issues with Environmental Modifications 
It was acknowledged in discussion that this is a complex issue and there is varied practice and workarounds in operation around the country, with many also operating outside of the system.  Issues with providers running out of money was raised; with implementing prioritisation strategies being discussed as a potential strategy – however the issue of unknown demand was acknowledged.  The issue of defining modifications (simple and complex) was discussed, with a recommendation from OTA that the dollar value be moved away from.  The ongoing problem of inequities of funding across the country was also raised, and Karen confirmed that work is ongoing on this, and a broadly national system is being worked on going forward. Karen was very happy to consult with OT Australia to try to find solutions to some of these issues.
Workforce
It was acknowledged that there are challenges attracting occupational therapists to rural and remote areas, and generally in getting enough therapists working within the system.  Solutions such as grouping and clustering, and use of AHAs were discussed as well as use of technology to assist such as telehealth.
Outcome
Karen's team to continue working on system updates, and implementing short term wins as quickly as possible.
Quarterly meetings will be arranged between OTA and Karen and her team to continue to raise and find strategies to address issues.